"small gods" by terry pratchett, another book i felt
'nudged'
to read and enjoyed
abijah recommends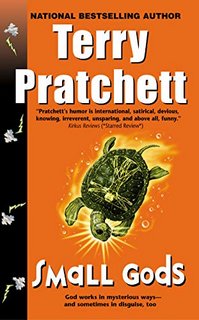 "They are the small gods - the spirits of places where two ant trails cross, the gods of microclimates down between the grass roots."
'Someone up there likes me', he thought. 'And it's Me..'

abijah`

wrote:

↑

May 25th, 2021, 7:07 pm

Whats more is I wasn't even on the lookout for a fiction book to add to my current read-load, but felt something sort of..

nudge

me to check it out when I saw it at the library. Looking back I can see what happened clearer, and I'm grateful for these little things the Lord does in helping me out sometimes, maybe even in

odd

.. but ultimately useful & interesting ways.

Though Ive also found one of the healthiest things for one's spirituality and ability to interface w/ the Spirit and receive revelation =

keeping your imagination healthy and vivid

. So important. Its like a spiritual/mental

muscle

, that needs to be exercised in order to give the Spirit better tools to use when trying to communicate w/ us.